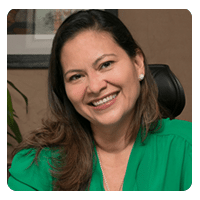 Cecilia Paredes
Rector ESPOL
Dr. Cecilia Paredes Verduga graduated with a mechanical engineering degree in 1993; she obtained a US-AID scholarship to carry out a master's and doctorate degrees at Rutgers University, New Jersey. In recognition of her professional achievements, years later, she received the award as a distinguished alumnus.
Dr. Cecilia Paredes founded the Centro de Investigación y Desarrollo en Nanotecnología (CIDNA) in 2010 and the Laboratorio de Ensayos Metrología y de Materiales (LEMAT) in 2003.
She was assistant dean in 2005 and until 2008 she was in charge of the Facultad de Ingeniería en Mecánica y Ciencias de la Producción (FIMCP), becoming the first female deputy dean of the same.
She was a promoter of Program 6 VLIR-ESPOL (2003-2009): management of a research program on applications of non-metallic materials.
In 2011 she was an academic member of the Consejo de Educación Superior del Ecuador (CES), being president of the First Provisional Council, she was also the president of the Consorcio Latinoamericano y del Caribe de Instituciones de Ingeniería (LACCEI).
Since 2012, she is the Academic Vice-rector of the Escuela Superior Politécnica del Litoral. She will continue to work for academic excellence, international accreditation of careers, and innovated in curricular reform, high-level teacher training, among other issues.