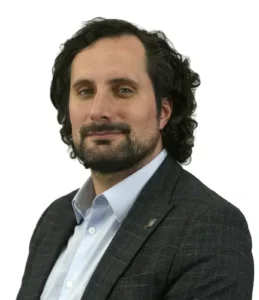 Gonzalo Baroni
National Director of Education Ministerio de Educación y Cultura de Uruguay (MEC)
He worked as an official of the General Directorate of Casinos, in the Ministry of Economy and Finance.
He was an advisor in the Parliament and in the Congress of Mayors.
He teaches at the School of Administration and Social Sciences of Universidad ORT Uruguay.
He was a mathematics teacher at the Escuela de Oficios Don Bosco and at the Consejo de Educación Secundaria.
Founder of the Asociación de Funcionarios de Casinos del Estado (ANFUCE) and member of the Confederación de Organizaciones de Funcionarios del Estado (COFE) and the PIT-CNT.
Member of the National Academy of Economics (ACADECO) and the Society of Economists of Uruguay (SEU).
He was part of Enseña Uruguay, Teach For All.
He was a member of several positions of co-government of the Universidad de la República.