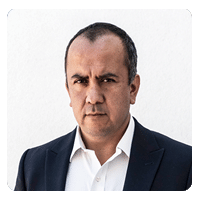 Juan Pablo Mena
CEO U-Planner
Juan Pablo Mena studied Civil Engineering at Santa María University where he specialized in mathematical and AI (artificial intelligence) and then studied an MBA at the Adolfo Ibáñez University in Chile.
He has worked since 2004 developing and supporting the implementation of Edtech in university management and learning management.
Since 2010 he has specialized in sales, marketing, business development, commercial strategy for services and Edtech products.
He has led large teams of highly talented professionals on large-scale and complex Edtech projects. He is passionate about being able to improve the quality and coverage of education using technology and produce a true social impact.
Today he is CEO of U-Planner (www.u-planner.com). U-Planner develops effective and efficient solutions to complex problems that affect Higher Education Institutions, ranging from Academic Planning, optimizing the use of infrastructure resources and the quality of the schedules delivered to students and teachers, passing through the measurement and improvement of student retention rates, up to the support in the structuring of education strategies based on Competences and institutional and program Accreditation.