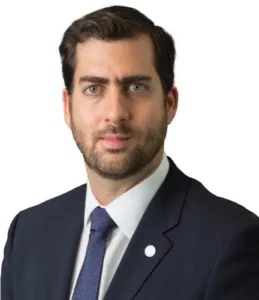 Juan Pablo Murra
Rector for Higher Education Tecnológico de Monterrey
Juan Pablo Murra Lascurain is the Rector for Higher Education at Tecnológico de Monterrey and a professor of leadership, family business and corporate governance. He is passionate about education, leadership and transformation.
Juan Pablo has held several roles at the institution since joining in 2011, such as Vice President for Development & External Affairs, Dean of the Business School, and Vice President for Planning and Transformation. He served as Secretary of the Board of Trustees of Tecnológico de Monterrey from 2012 to 2020.
Juan Pablo worked at McKinsey & Company for over a decade. He advised a global portfolio of public, private, and non-profit clients in Mexico, the United States, Russia, Colombia, and Brazil, leading projects in the financial, energy, consumer goods, retail, education, and philanthropy sectors.
Murra serves as President of the FIMPES Board of Directors, Vice President of the Board of the Civic Council of lnstitutions of Nuevo León (Consejo Cívico de Instituciones de Nuevo León) and Board member of the Eugenio Garza Lagüera Entrepreneurship lnstitute at Tecnológico de Monterrey.
Juan Pablo holds a bachelor's degree in Industrial Engineering and Systems from Tecnológico de Monterrey and holds an MBA degree from NYU Stern School of Business.
He is married to María Enríquez and is father to Jimena, Juan Emilio, and María Andrea.