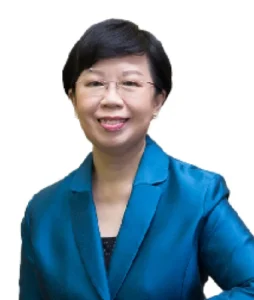 Lily Kong
President (Virtual participation) Singapore Management University (SMU)
Professor Lily Kong is the fifth President of Singapore Management University (SMU), and Lee Kong Chian Chair Professor of Social Sciences. She was formerly Provost at SMU
Before joining SMU, she was a faculty member at the National University of Singapore's Department of Geography for nearly 25 years. She also held various senior management roles at the National University of Singapore, including Vice Provost (Education), Vice Provost (Academic Personnel), Vice President (University and Global Relations), Dean (Faculty of Arts and Social Sciences), Dean, University Scholars Programme, and Director, Asia Research Institute.
An award-winning researcher and teacher, Professor Kong has received five international fellowship awards including the Commonwealth Fellowship Award and the Fulbright Fellowship Award. She has also won the Robert Stoddard Award from the Association of American Geographers for her contributions to the study of religion. Professor Kong was conferred the Public Administration Medal (Silver) in 2006 and Public Service Star (Bintang Bakti Masyarakat) award in 2020.
Professor Kong is widely known for her research on urban transformations, and social and cultural change in Asia. In particular, she has published a large body of work on religion, cultural policy and creative economy, urban heritage and conservation, and national identity. She is on a dozen editorial boards of international journals in her field and is frequently invited as keynote speaker to conferences in her domain.
She has co/authored 10 books, co/edited nine books, published nearly 100 refereed journal articles, and contributed over 60 book chapters.