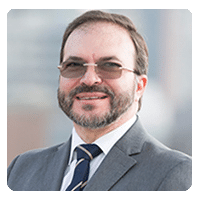 Luis David Prieto
Academic Vice-rector, Pontificia Universidad Javeriana
Electronic Engineer and Specialist in Project Management from the Pontificia Universidad Javeriana, PhD in Computer and Systems Engineering from the Politécnico di Torino. He worked as a project engineer for the Ingeniería Technip group, in Rome (Italy). He has been President of the Asociación Colombiana de Facultades de Ingeniería (ACOFI),, and an evaluator of the Consejo Nacional de Acreditación (CNA), the Comisión Nacional Intersectorial de Aseguramiento de la Calidad de la Educación Superior (Conaces) and the Departamento Administrativo de Ciencia Tecnología e Innovación (Colciencias). He served as Rector of the Universidad Tecnológica de Bolívar in Cartagena.
Since 1997 he has been linked to the Pontificia Universidad Javeriana where he has served as Director of several academic units in Electronic Engineering, Director of the research group in control systems, power electronics and management of technological innovation (CEPIT), Director of International Relations, Member of the Council of Regents and Dean of the Faculty of Engineering. He is currently the Academic Vice-rector of the same institution and President of the Foro Internacional de Innovación Educativa (FIIU).
He has published multiple scientific articles in the area of ​​control and automation, as well as books on university management, among which stands out: La internacionalización de la educación superior en América Latina y Europa: Retos y compromisos.