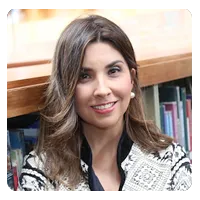 María Victoria Angulo
Minister of National Education, Government of Colombia
Social economist graduated from Universidad de Los Andes, with a master's degree in Economic Development from the same university and a master's degree in Applied Economic Analysis from Universidad Pompeu Fabra – Barcelona – Spain. With more than 20 years of work experience in social policy, with special emphasis on education; 15 years in the Colombian public sector in entities such as the National Planning Department, the Ministry of Development and the Ministry of National Education, where she served as Director of Promotion of Higher Education and Deputy Director of Support to Institutions. She served as Executive Director of the Fundación Empresarios por la Educación and then as Secretary of Education of the District of Bogotá.
These experiences have allowed her to know the reality of the country, to become passionate about social issues and to know and learn about the education sector at all levels, including the public sector, teaching, the Board of Directors of several universities in the country, and the coordinated work with the main civil society organizations that contribute to the positioning of education in the public agenda.
Her vocation is to work for education, to connect dreams, projects, actors and resources for designing and implementing policies to improve the quality of education. The Minister believes that education is the way to reengage, to progress, to work for equity and to build a better country for everybody.