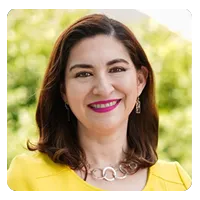 Rosalinda Ballesteros
Director of the Institute for Wellbeing and Happiness Science, Universidad Tecmilenio
She's currently the Director of the Institute for Wellbeing and Happiness Science at Universidad Tecmilenio, where she was also Assistant Dean of high schools. She has a PhD in Humanistic Studies from Tecnológico de Monterrey, (2011), and a master's degree in Applied Positive Psychology from the University of Pennsylvania, USA, with the research paper: "Life Meaning and Purpose as Key Elements for Personal Success" (2015). She also has a master's degree in Science with a major in Communication, from Tecnológico de Monterrey (2000).
She's certified in "Appreciative Inquiry in Positive Business and Society Change" by Case Western Reserve University (2016), a key organizational development methodology for positive organizations. She also has a degree from the certification program: "Stress Reduction based on Mindfulness" from the Centro de Bienestar Integral del Hospital Zambrano Helion.
She has over 20 years of teaching experience, as well as broad experience in team leadership. She's an expert in negotiation, culture, and well-being. She's a faculty member for the Master's in Positive Leadership at Universidad Tecmilenio, for the Master's in Ethics for Social Construction at the Universidad de Deusto in Spain, and for the PhD in Humanistic Studies at Tecnológico de Monterrey.
She is member of the Board of Directors for the IPPA (International Positive Psychology Association) in its professional chapter on Education. She represents Mexico at the IPEN (International Positive Education Network). She is member of the Advisory Board of La Paz Comienza con los Niños A.C. in Mexico, and of "Education for Peace International" in Switzerland.
She developed for the international NGO, "Invest in Children Global", a manual to help identify post-trauma growth, made for coaches of the programs which seek to reincorporate children-soldiers into their post-conflict zones in Africa.
She has written articles for several newspapers, such as El Norte, Reforma, Excelsior. Business magazines such as Forbes Español, América Economía, Fortune, Universo Capital Humano in Spanish, and for Positive Psychology News online in English.