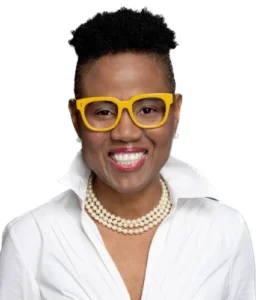 Uohna Thiessen
Senior Data Scientist at Meta
Dr. Uohna Thiessen is a data scientist and data science educator whose mission is to promote data science education to as many as possible. A statistician by training, she strongly advocates for the inclusion of scientific rigor in all data science endeavors. She earned a Ph.D. in Epidemiology, with an emphasis in biostatistics, from Walden University, Minneapolis, MN. Her research focused on using cross-sectional or cohort data to develop disease prediction algorithms. Her dissertation led to improved performance of a risk prediction model for cardiovascular disease. Her extensive background in teaching, research, neuroscience, and machine learning gives her a wealth of knowledge and makes her a formidable force for promoting data literacy and data science education.
Dr. Uohna holds an undergraduate degree in Biochemistry from Oakwood Oakwood University, Huntsville, AL, where she started her research career. She conducted cutting-edge research in plant electrophysiology research, under her mentor Dr. Alexander Volkov. Upon graduating from Oakwood, she worked as a formulator for Procter & Gamble (P&G), developing healthcare products. She is credited with having formulated the dozens of flavors for the Crest Whitening Expressions toothpaste campaign, which was a first of its kind and marketing success. After P&G, she pursued a Ph.D. in Neuroscience at Wright State University, Dayton, OH. Completing the required course work and successfully defending her comprehensive exam, she qualified as ABD (All But Dissertation). However, while conducting electrophysiology experiments, she realized that she was more enthusiastic about compiling, analyzing, and presenting research data- hers and her colleagues, than she was about bench experiments. So, she transitioned to Walden University, where she would eventually earn her doctorate. It was as a graduate teaching assistant, both at Walden and Wright State, that her passion for teaching statistics and quantitative analysis was harnessed.
After Walden, she served as an adjunct lecturer at several colleges, including Kettering College of Medical Arts, Kettering, OH, while also parlaying her statistics skills as a part-time statistician consultant. She quickly developed her competence in Python and R programming languages and switched from statistician to data science consultant. Working mainly with small to medium-sized companies across various industries, she helped leverage the power of their data in facilitating innovation and growth. Eventually, she also became an instructor at Flatiron School and Simplilearn, teaching courses in data science, statistics, and machine learning. Most recently, she joined the technology consulting firm Accenture and is on assignment at Meta. She brings her teaching, data science, and data engineering knowledge to one of Meta's Ad tech teams.
Dr. Uohna remains passionate about making data science knowledge available to all. To that end, she launched her YouTube channel, with videos teaching data science and statistics principles. Earlier this year, she started a new project- 'Data Science and Dance,' where she uses the latest TikTok dances to teach basic statistics and machine learning fundamentals. Philosophically, she believes that the data belongs to those who generate it, and as such, they should know how to use it. Dr. Uohna believes that the key to data literacy is to make learning data science part of a fun activity- like dancing!