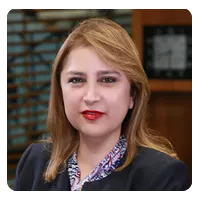 Elsa Beatriz Palacios
Director of Educational Innovation and Digital Learning, Tecnológico de Monterrey
She has a doctorate in educational innovation, and is currently the Director of Educational Innovation and Digital Learning, where she's responsible for driving innovation and digital experiences within the institution, as well as for managing digital and distance education national programs.
With a career of over 30 years, she has participated in the development of digital education within the institution, through the design and deployment of different models for high-school, undergraduate, graduate, and executive education programs. She has also actively participated in the definition of the corporate university concept, and in the application models for virtual and hybrid education in companies and universities. She has been responsible for defining the strategy and deployment of digital education, education innovation, open resources, MOOCs, and the institutional video; as well as for defining and implementing the educational spaces' guidelines for the Tec 21 Model. She has coordinated the actions to deploy the digital mode as a strategy to counter contingency situations and educational transformation.
She was a member of the Advisory Board of COURSERA and is currently a member of the group of expert advisors for the European Consortium of Innovative Universities (ECIU), and of the Committee for Educational Innovation of Universitas21.
Publications:
Estrategias de diseminación de conocimiento tácito en una institución de educación superior. Opción Magazine.
How to disseminate knowledge about distance education. Research in Higher Education Journal.
Strategies for disseminating knowledge about distance education in a Mexican higher education institution. International Journal of Law, Education, Social and Sport Studies.
Capítulo "El aprendizaje organizacional en instituciones educativas que viven un cambio" in the book "Sociedad, Internet y Cultura".
Book: 30 años de experiencias digitales y a distancia en el Tecnológico de Monterrey.