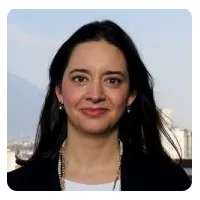 Eva Fernández
EARLY CHILDHOOD SOCIAL INVESTMENT MANAGER, FEMSA FOUNDATION
Since the creation of the Department of Social Investment in Early Childhood of the FEMSA Foundation in 2008, Eva Fernandez has worked for the development of children within Early Childhood, seeking to improve interactions with their caregivers, their public spaces, and the policies in favor of their well-being. She is President of the "Enseña por Mexico Council", an organization dedicated to reducing educational inequality in Mexico. She also serves on the boards of the Pact for Early Childhood, The Nature Conservancy (TNC) in Texas, and the US-Mexico Foundation.
She previously served as Executive Director of the Qualitas Life Foundation, an organization that provides financial education to Hispanic immigrants in New York City. She also worked with the Americas Society and the Council of the Americas.
Eva has a bachelor's degree in International Relations from Tecnologico de Monterrey and a Master's Degree in International Affairs from the Johns Hopkins University School of Advanced International Studies (SAIS).