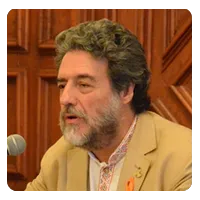 Francisco Luciano Concheiro
Undersecretary of Higher Education, Government of Mexico
The Undersecretary of Higher Education has a PhD in Rural Development from the Universidad Autónoma Metropolitana (UAM), Xochimilco unit, and is candidate to become a PhD in Political Science from Universidad Nacional Autónoma de México (UNAM).
He has a master's degree in Social Science from the Facultad Latinoamericana de Ciencias Sociales (FLACSO), and a degree in Economics from UNAM. Likewise, he has a major in Political Economics and Agricultural Economics from the Gramsci Institute in Rome, Italy.
He is a distinguished professor at UAM and has been a research professor at the Xochimilco unit of that university for 40 years, both in the Biological and Health Science Division, and in the Social Science and Humanities Division. He has taught courses and conferences at multiple universities in the country and abroad, specially within Latin America.
He has led over 100 undergraduate, master's and PhD thesis, and has been advisor in over ten post-doctorates. He has published over 250 articles in several magazines and books; and has also participated in multiple editorial committees.
He is a member of the Sistema Nacional de Investigadores (SNI); member of the Academia Mexicana de Ciencias; advisor for the FAO on Land Markets in Latin America; and was founder and co-director of Greenpeace Mexico. He was a member of the Board of Directors of the Social Science Council for Latin America (2009-2015).
He participated in the 1968 Student's movement and survived the October 2nd massacre. He was a student leader of the 1971 movement, and of the Escuela Nacional de Economía at UNAM.
He participated in the taking of lands and agrarian fights during the 70s, and, has since then, accompanied several social movements in Mexico and in Latin America.
Member of the Partido Comunista Mexicano (PCM) since 1967. He was also a member of its Central Committee, a member of the Partidos Socialista Unificado de México (PSUM) y Partido Mexicano Socialista (PMS). He has been a member of MORENA since its origins and was president of its National Election's Commission in 2015. He also participated in the Proyecto Alternativo de Nación.