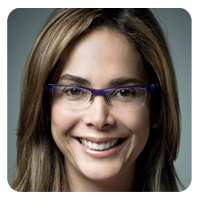 Conferencia: "Ser pilo paga" (por video enlace)
Horario: Lunes 14 de diciembre, 12:30 hrs.
Lugar: Salón de congresos (mapa)
Gina Parody was born in Bogotá and graduated as a lawyer from Pontificia Universidad Javeriana, where she specialized in Conflict Resolution. She has a Master's degree in Public Administration from Harvard University (USA), as well as certifications in 21st-Century City Management from the Open University of Catalonia and in Increasing Property Prices as a tool for the Development and Regularization of Informal Settlements at the Lincoln Institute of Land Policy. She has also been a Senator (2006-2010) and a member of the House of Representatives (2002-2006).
Parody started her political life at a young age when, in 1997, she worked with Rafael Pardo on the campaign of the liberal presidential nominee, Alfonso Valdivieso.
During the 2011 regional elections, she ran as an independent candidate for Mayor of Bogota.
She then held the post of Executive Presidential Advisor for Bogota. From February 2013 to June 2014, she was the Director of the National Learning Service (SENA).
Ser Pilo Paga Program
Making Colombia the country in Latin America with the best education by 2025 is the major goal of the country's government. According to analysis from the SABER 11 test results from 2012, some 17,000 of the 27,000 best scores were achieved by students in levels 1, 2 and 3. Now, two years later, close to 4,000 of these students have not had access to further education because they do not have the financial resources necessary to cover the expenses involved.
That is why the Colombian government, with the goal of consolidating strategies that help promote excellence and quality in further education for students from poorer backgrounds who achieved excellent results in the Saber 11 tests in 2014 and beyond, has launched, in conjunction with ICETEX, the
Ser Pilo Paga
program.
These credits do not need to be paid back if and when the student graduates from their degree program. With this grant program, the government is promoting excellence in education, which it see as one of the most important pillars of achieving peace and equality for everyone in Colombia.
Source: www.mineducacion.gov.co, www.asillavacia.com y www.colombiaaprende.edu.co