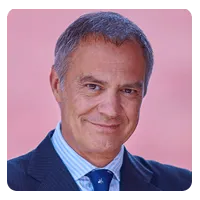 Ignacio de la Vega – Facilitator
Associate Provost for Academic Affairs, Faculty and Internationalization, Tecnológico de Monterrey
Dr. De la Vega currently serves as the Associate Provost for Academic Affairs, Faculty and Internationalization at Tecnológico de Monterrey, the leading private university in LATAM. De la Vega also leads the large Entrepreneurship Center (IEEGL) TEC wide.
Previously and for almost four years, he served as Dean of EGADE Business School and Dean of the Undergraduate Business School at Tecnológico de Monterrey serving some 19.000 students and 1500 Faculty members. During his tenure, EGADE designed and implemented the bold EGADE 2025 Vision with a focus on the complete turnaround of the school´s portfolio; strengthened the Faculty with an ambitious recruiting and development strategy; increased research output by 3fold; implemented an ecosystem of Strategic Centers aligned with relevant knowledge and practice involving industry financing and fund-raising; redesigned the Executive Education operation with new delivery and content strategies; launched Alternative Learning as an EdTech project to test innovative non degree products and increased internationalization and positioning of the school reinforcing its LATAM leadership.
At the undergraduate operation, the School of Business has launched TEC21, the new educational model at Tec de Monterrey that has allowed the involvement of almost 200 industry learning partners; introduced a new competency based educational model; achieved a phenomenal growth in recruitment of almost 35% over the last three years; grew student selectivity by 25%; led the student satisfaction rate of all the schools at TEC; and developed a strong Faculty recruitment effort that has attracted over 400 new faculty members including the Global Visiting Online Faculty Program and the Leadership Voices initiative.
Prior to coming to EGADE, Dr. De La Vega served as Chief Learning Officer for the global bank BBVA. He was also the Director of Strategic Management and Chair
of Madrid's IE Business School's Entrepreneurship Department and International Center for Entrepreneurship and Ventures Development, which he founded in 1998. Dr. De La Vega has been a Senior Faculty member at IE Business School and has been teaching Entrepreneurial Management and Business Strategy for over 25 years in Business Schools and universities in more than 30 countries, having won many teaching excellence awards.
De la Vega also served as Director of the Babson Global Centers of Entrepreneurial Leadership in the Middle East, where he was responsible for the strategic direction and expansion of centers in the Middle East and around the world. The Centers focus on expanding the practice of Entrepreneurship of all Kinds™ through innovative co-curricular programs, cooperation with government and firms and global collaborative research initiatives. During his tenure, Babson led the launch of two private universities in Indonesia and Saudi Arabia.
His research addresses the role of informal investment in the availability of funding resources for start-ups, a topic he defended in his PhD dissertation. Ignacio served for two periods as global Chairman of the GEM consortium, the largest study of entrepreneurship in the world and started and developed GEM in Spain and Middle East.
Besides his private sector positions, Dr. de la Vega has served at the Spanish government, holding several leadership positions. Ignacio has authored 3 books on Entrepreneurial Management and publishes frequently in media. In 2020 he was nominated "Educator of the Year" by the prestigious Academy of International Business (AIB) as a recognition to his career and the internationalization strategies in place at EGADE and TEC Business School. He has served and is currently engaged in different Boards at AACSB, EFMD and AMBA.
Dr. de la Vega holds a Ph.D. from IE University in Spain, a Law Degree from Universidad Complutense in Spain and a master's degree in International Relations from the Fletcher School of Law and Diplomacy, Tufts and Harvard University. In addition, he has participated in shorter programs at Harvard Business School, Babson College and Harvard Law School.