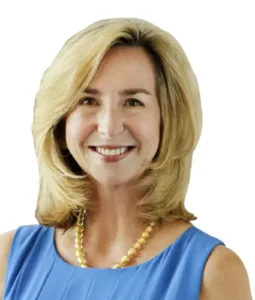 Kerry Healey
President Babson College
President Babson College
Babson President Dr. Kerry Murphy Healey is internationally recognized for her nearly three decades of service in academia, government, and humanitarian work both in the United States and overseas.
Dr. Healey worked to lead, enact, and implement a wide range of policy and legislative initiatives for the Romney-Healey Administration. She co-chaired the state's Regional Competitiveness Councils, which focused on coordinating economic development and increasing business competitiveness throughout Massachusetts. She led successful efforts to expand legal protection and services for victims of domestic violence and child abuse, increase penalties for drunken driving, and create recovery high schools to support education for formerly drug-addicted youth. Dr. Healey also partnered with Governor Romney to craft Massachusetts' first-in-the-nation health care reform legislation.
In 2008, Dr. Healey was appointed by Secretary of State Condoleezza Rice as a founding member of the Executive Committee of the U.S. State Department's Public-Private Partnership for Justice Reform in Afghanistan (PJRA), a position to which she was later reappointed by Secretary of State Hillary Clinton. As founder and president of the nonprofit that administers the PJRA's rule-of-law programs, she helped Afghan lawyers attend top U.S. law schools to study human rights issues and commercial law and to establish Afghanistan's first Law Review. As a trustee of the American University of Afghanistan (AUAF), she worked to secure scholarships for Afghan women, and, in conjunction with Stanford Law School, to establish a law program at AUAF.
Dr. Healey has led numerous philanthropic initiatives including: efforts to combat child homelessness with the National Center on Family Homelessness; delivering humanitarian aid to children and the elderly in Cuba; the Parity Project, a bipartisan effort to promote the election and appointment of women to high-level government offices; and training female parliamentarians in Afghanistan.
In 2010, Dr. Healey created and hosted Shining City, a television series showcasing New England's cutting-edge scientific and social innovation which aired on NESN.
Prior to her public service, Dr. Healey worked for more than a decade as a public policy consultant to the United States Department of Justice for Cambridge-based think tank Abt Associates. Her research and published work focused on gang violence, drug abuse, child abuse, and domestic violence.
Dr. Healey holds an AB in government from Harvard College and a PhD in political science and law from Trinity College, Dublin. She has been a fellow at the Harvard Kennedy School's Institute of Politics and Harvard's Center for Public Leadership.