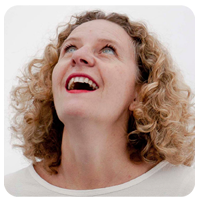 Conference: "From suspenso to suspense: defending learning as a place for passion"
Schedule: Martes 15 de diciembre, 16:45 hrs.
Location: Salón de congresos (mapa)
María Acaso is Coordinator of the Disruptive Education School from the Telefónica Foundation, a forum to help train teachers in the key elements of this new paradigm and make rEDUvolution a reality.
She has been described as one of the current leaders in Spain and Latin America of the so-called Educational Revolution movement or, as she herself calls it, #rEDUvolution. Her major area of study focuses on researching the obsolescence of the current education system and developing contemporary education practices that are based on five lines of action:
Accept that what we teach is not what the students learn
Change power dynamics
Empower the classroom
Move from simulation to real-life
Stop evaluating and start researching
María Acaso has been working in the field of education for more than 20 years, and, since she began her career at the Complutense University of Madrid, she has made it clearer and clearer that the current education system is obsolete and that an urgent paradigm shift is required.
As a speaker and researcher, she has worked with a number of the world's most prestigious educational institutions, such as the Autonomous University of Mexico, NYU, Colby College, the Bergen National Academy of the Arts, the New School of Social Research, the School of the Art Institute of Chicago, Harvard and Stanford, as well as the Museum of Memory and Human Rights (Chile), MOMA (NY), the 9th Mercosul Biennial (Brazil), the Museum of Antioquia and the Medellin Museum of Modern Art (Colombia), Culturgest (Lisbon) and the Getty Museum (USA).
She has published a number of books, the most recent of which (rEDUvolution: hacer la revolución en la educación (Paidós, 2013), is a real source of inspiration for thousands of teachers.
Her blog (mariaacaso.es) is an international benchmark for disruptive education and artistic education.
Source: http://www.mariaacaso.es