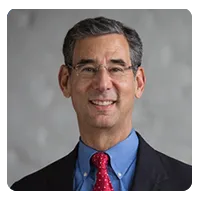 Michael Golden
Executive Director de Catalyst@PennGSE
Dr. Michael Golden is a proven education leader committed to education reform.  He brings expertise in the convergence of business, technology and education as an implementer with experience in established, emergent and public sector environments.
Dr. Golden currently serves as Executive Director and Senior Fellow at Catalyst @ Penn GSE, directing a bold new endeavor at the University of Pennsylvania to design innovative education practices and to create and scale actionable solutions to pressing problems in education. Both a collection of unique programs and a facilitator within and beyond the University, Catalyst moves knowledge to action by leveraging expertise and empowering the various stakeholders across the education ecosystem. Accomplishments to date include:
establishing a continuum of programming to support education entrepreneurs, including the Milken – Penn GSE Education Business Plan Competition, the world's most prestigious education competition,
administering the Harold W. McGraw, Jr. Prize in Education and associated programming that spotlight exemplar people and practices in education innovation,
launching and sustaining practitioner inquiries and networks to address problems of practice with supportive, reflective and insightful collaborators,
training faculty to teach remotely and in hybrid and blended modes while designing learning environments that support all learners,
convening thought leaders and diverse stakeholders to redefine education in scaling sustainable innovation across preK-12, higher education, and lifelong learning, and
developing in-person and online programs and degrees that permit educators and leaders globally to understand and utilize cutting-edge practices and technologies.
Previously, Dr. Golden co-founded and served as CEO of Educurious, a national non-profit that provides problem-based courses and professional learning services to empower and motivate young people through transformative learning experiences to become purposeful, self-confident and successful in their learning. By combining project-based learning, technology, connections with real-world experts, and workplace explorations, the company creates meaningful learning that cultivates contemporary skills.
Prior, he served as the Deputy Secretary of the Pennsylvania Department of Education, developing systems, programs and funding to make schools more effective and efficient including the formulation and implementation of statewide education technology policies and initiatives. He also served as Senior Vice President at Pearson, leading the planning and administrative functions for Pearson and as Corporate Vice President of Education at Microsoft, directing Microsoft's global efforts in education.
Dr. Golden holds a doctorate in Education Leadership from University of Pennsylvania's Graduate School of Education, an MBA from Harvard Business School, and a BA from Williams College.