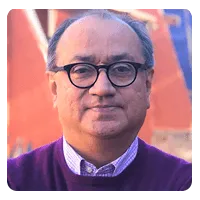 Otto Granados
Ex-Secretary of Education, México
Otto Granados is currently Chairman of the Advisory Council of the Organization of Ibero-American States for Education, Science and Culture, and until 2020 was a Visiting Global Fellow of the Chen Yidan Program at the Harvard University Graduate School of Education.
For more than thirty years he has been linked, from different positions, to educational management. Between 2015 and 2018 he was Undersecretary of Planning and Evaluation and Secretary of Public Education of México, from where he was one of the architects of the Education Reform. Previously, he has been Ambassador of México to Chile on two occasions; Governor of the state of Aguascalientes; Spokesperson for the Presidency of México, and Chief of Staff of the Secretary of Public Education, among other positions. He also chaired the boards of the Fondo de Cultura Económica, the Consejo Nacional de Fomento Educativo and the Instituto Nacional para la Educación de los Adultos.
In the academic field, Otto Granados has been professor, researcher and general director of the Institute of Public Administration at the Tecnológico de Monterrey between 2001 and 2013, as well as professor and member of the Governing Council of the Instituto de Estudios Bursátiles and the Fundación Ortega y Gasset, both in Spain.
He has participated as an instructor in various training programs with Leading Education, of the Varkey Foundation, and with the Korean Development Institute School of Public Policy. He is a member of the Latin American Coalition for Teaching Excellence and the Board of Trustees of the Fundación Ortega-Marañón.
He lectures both in Mexico and abroad and is the author, co-author or editor of 22 books on education, social sciences and public policy, the most recent of which is La educación del mañana: ¿inercia o transformación? published by the OEI. He has received distinctions from the governments of Spain and Chile, and is a Global Leader of the World Economic Forum.
Otto Granados studied law at UNAM and political science at El Colegio de México.