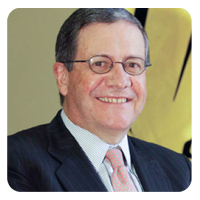 Conference: "The new university and its responsibility with social inclusion
Schedule: Lunes 14 de diciembre, 15:15 hrs.
Location: Salón de congresos (mapa)

Born in Bogota in 1950, he graduated in Industrial Engineering from Cornell University and has an MBA from the University of Los Andes (ULA). He has been a member of the Board of ULA since 1983 (serving as Deputy Chairman several times and as Chairman from 1997 to 2003). Over the past number of years, he has held the post of Chairman of the Fundraising Committee.
Throughout his career, he has held the posts of Vice-President of Colegio San Carlos, founding member of Colegio Los Nogales and Manager of Asociación Alianza Educativa. Furthermore, he has been a Planning Manager at NAGA, Dairy Product Manager at La Campiña, Chairman of the Global Education Group Colombia, and Director of Proexpo's Commercial Offices in New York. He has been a member of a number of boards of directors, including Caracol Radio SA and Ospinas y Cia.
He is the author of the book entitled The Journey of Frederic Edwin Church through Colombia and Ecuador, April-October 1853. The English-language version was launched in Washington and New York and received positive comments from a number of specialists.
Source: http://www.uniandes.edu.co