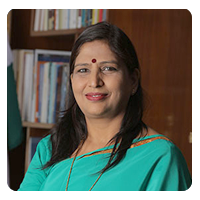 Pankaj Mittal
Secretary General, Association of Indian Universities and National Commissioner - Rangers at Bharat Scouts & Guides
Dr (Mrs) Pankaj Mittal, Secretary General, Association of Indian Universities, is a Fulbright Scholar, & a topper in MSc & PhD in Agricultural Statistics from IARI, New Delhi. She has an experience of about three decades in Higher Education in Policy Planning & Management of Higher Education.
Dr Mittal was appointed by the Government of Haryana as the first regular Vice Chancellor of Bhagat Phool Singh Mahila Vishwavidyalaya, the first rural women university of North India, in 2008, at a young age of 44 years which was later extended for another term. Dr Mittal introduced a series of innovative practices and reforms as the Vice Chancellor of the only rural, residential, multi-faculty, women state university of the country which imparts education to 7000 girls from KG till PhD level in a holistic manner.
She has visited a number of countries like USA, UK, Australia, Canada, South Korea, Spain, Germany, South Africa, Hong Kong, Thailand, Mauritius, Bangladesh and Philippines for academic purposes for presenting papers in international conferences and academic exchanges.
She was also the proud recipient of Fulbright Nehru Scholarship grant for Educational administrators, the President Award for Digital Initiatives in Higher education, Qimpro Gold Standard Award for HE, Honris Causa from Karnataka Women University and Subhashini Devi Award for Community Engagement.
Dr Mittal has been a member of various High Powered Committees and Professional Bodies including Programme Advisory Board and HRM Network Steering Committee on HRM of Association of Common wealth Universities, London, Pay Review Committee for University and College teachers in Haryana, Kerala State Council for Higher Education, Rehabilitation Council of India, Haryana State Council for Higher Education.
She has published a number of papers, articles, occasional papers and reports on issues relating to higher education and women empowerment in national and international journals.