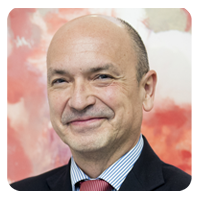 Santiago Iñiguez
President of IE University
President of IE University
Santiago Iñiguez de Onzoño is the President of IE University. He holds a Doctorate in Law from the Universidad Complutense de Madrid, an MBA from IE Business School and a Recognized Student from the University of Oxford. Iñiguez de Onzoño was dean of the IE Business School from 2004 to 2017, promoting strategic alliances with universities such as Brown University (USA), Ivy League member, and the creation of the FT-IE Corporate Learning Alliance, an executive training platform jointly with the Financial Times and major strategic developments of the business school.

Iñiguez has worked as a Management Consultant and has played a leading role in the field of quality control and the development of business education in Europe. He is Chairman of GFME (Global Forum for Management Education, Belgium) and Member of the Board of Directors of AACSB (Association of Collegiate Schools of Business, USA).

He is also a member of the Awarding Body of EQUIS (European Quality System) and the International Advisory Board of AMBA (Association of MBAs, UK). He is also a member of the boards of several international business schools: CENTRUM (Universidad Católica, Peru), Mazars University (France), Jiao Tong University School of Business (China), Renmin University Business School (China), Getulio Vargas Foundation ) and the Presidential Academy of Russia. It has been described by the Financial Times as "one of the most significant figures in the international promotion of European schools".

Iñiguez is also President of IE Fund in the United States, the foundation that promotes development projects for the business school he runs.

Iñiguez is Professor of Strategic Management at IE Business School. His book "The Learning Curve: How Business Schools Are Reinventing Education", (http://bit.ly/dXriHU), published by Palgrave Macmillan in 2011, looks at the challenges of educating managers and entrepreneurs in the future. His latest book, Cosmopolitan Managers published with Palgrave Macmillan in 2016, collects his advice on what works and does not work in Executive Education.