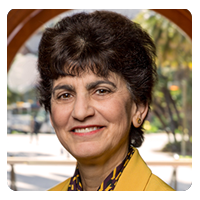 Mary Papazian
President San José State University
Mary Papazian was appointed San José State's 29th president in January 2016. Papazian is firmly committed to student success; open, transparent and inclusive leadership; fostering a culture of curiosity and discovery; and building enduring campus and community partnerships.
Papazian most recently served as president of Southern Connecticut State University (SCSU) in New Haven, Connecticut. There, she demonstrated a singular focus on student success, establishing a task force in her first year as president to review practices and develop recommendations for change.
Previously, Papazian was the provost and senior vice president for Academic Affairs at Lehman College of The City University of New York, managing a $70 million budget that supported 450 full-time faculty members and 200 staff members, creating a research advisory board, hiring a new director of the Office of Research and Sponsored Programs, and developing a research handbook for faculty.
She served as the dean of the College of Humanities and Social Sciences at Montclair State University in New Jersey, and associate dean of the College of Arts and Science at Oakland University in Rochester, Michigan, where she began her academic career as an assistant, associate and professor of English.